Ottawa County Parks Foundation – June Newsletter

Supporter Spotlight: Cathy Feyt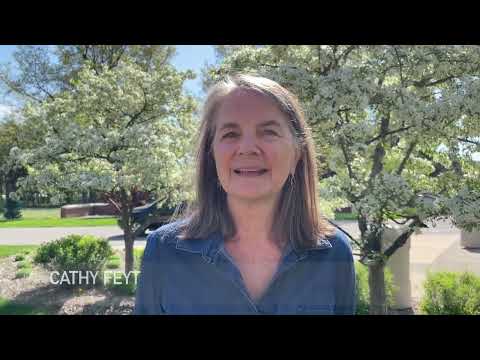 Featured Plant: Lookalikes

by Bobbi Jones Sabine

"Compare and contrast," your old English teacher used to
 demand. So let's look at four flowers blooming this month that look similar at first glance, but are really very different.
Honesty (Lunaria annua) leads off the parade in late May/early June, with four-petaled pink flowers. It's a non-native biennial which can and will grow about anywhere, from roadsides to weedy thickets to highly disturbed areas. Also called money-plant, it has a flat, round fruit that somewhat resembles a coin, if you have a good imagination. It's found in upper and lower Michigan.
By the early days of June, roadsides, meadows, and woods throughout Michigan abound with dame's rocket (Hesperis matronalis), a perennial forb often mistaken for phlox. However, this brash imposter is also a non-native invader from Europe. First collected in Michigan in 1886 in Kent County, it's since been found in nearly every county in the state. Its four petals may vary in color from white to pale pink to nearly fuchsia.

Right on the heels of dame's rocket comes prairie phlox (Phlox pilosa), same height, same color…but wait!  There are FIVE petals! And this native phlox is a bit more selective about its habitat, appearing in forests, prairies, fens, and the edges of wet areas, throughout the lower half of the lower peninsula. The genus name is derived from the Greek word "phlox," meaning "flame," in reference to the intense color.
And to further confuse things… also blooming simultaneously is wild blue phlox (Phlox divaricata), another five-petaled native which is widespread in lower Michigan. It's also known as woodland phlox or wild sweet william. Sometimes the flowers look more pink, and once in a while white-flowered plants will occur. This one prefers deciduous forests, especially moist areas, and can form large colonies over time as leafy shoots spread along the ground, rooting at the nodes.
All four are also differentiated by very different leaves.
Photo credits: Michigan Flora Online, University of Michigan (1-R.W. Smith, 2-C. Peirce, 3-J. Kelly); 4-Missouri Botanical Garden
Upcoming Events

Grand River Greenway Update

Join us for an exclusive update on the progress of the Grand River Greenway on Wednesday, July 13 at Noon. This update will be virtual. Registration is required.

Breakfast/Lunch at the Park

We are looking forward to our 5th Annual Breakfast at the Park on Thursday, June 16 at 7:30 AM. This annual fundraising event helps support our mission of bridging community to nature.

This year we have added a second event on Thursday, June 16. There will also be a Lunch at the Park at 11 AM. All funds raised at these events help support Ottawa County Parks.

A special thank you to our sponsors:

The Crane Family Fund in Memory of Marilyn J. Crane

Leadership Sponsors

Baird Private Wealth Management

Dr. Barbara Brown and Linda McAffrey

Community Sponsors

Tim and Jane Stoepker

Friend Sponsors

Sponsorship opportunities are still available!

There is still room if you would like to attend. If you are interested in sponsoring or attending, please contact Angela Miller-Niarhos.